Balmoral Beach is one of Sydney's best beach choices for relaxation. It provides everything you would want to forget about tumultuous city life, allowing you to de-stress and enjoy effortlessly. The turquoise water at Balmoral Beach is transparent and calm, the sand is super soft and golden and the vibe is 'chilled with just a little bit of energy'. Balmoral features two beaches, Balmoral Beach and Edward Beach. They're divided by Rocky Point Island; a pedestrian bridge separates the two sides which leads people out to the peninsula.
Things To Do
Take a short walk over the pedestrian bridge and around Rocky Point Island - great for views all over Balmoral Beach. Take a leisurely stroll along the Esplanade. Enjoy a picnic on one of the grassy areas next to the beaches; there are lots of shaded areas also. For those who want to be a little more active you can go kayaking, paddle-boarding, snorkeling and even learn how to sail thanks to the schools over there. The Boatshed provides equipment hire.
Suited For
It's great for families; the calm waters make it a safer swimming option to others; Balmoral also has a shark-proof netted enclosure. There's also a shallow rock pool to explore and a small children's playground right on the sand. However, you should know that the waters aren't patrolled by surf lifesavers. Also perfect for couples; very romantic and especially come the evening; Public Dining Room is a great option for a nice meal together. The traveller, singleton; a perfect destination to take pictures, have a coffee, read a book. Basically everyone.
Food & Drink
There are several cafes and restaurants around the area. You aren't spoiled for choice but they are more than adequate. The Boathouse is the most well-known in the area; a great location on the beachfront while you dine with a superb view and tranquil atmosphere. Another option is The Bather's Pavilion, for modern European cuisine and great wine options. Bottom of the Harbour is a great option for seafood and a quick cheap eat. Public Dining Room is the one for a romantic fine dining experience. For more options, see Google results here.
Facilities
Other facilities around the area include; three public toilets, changing rooms and showers - located at The Bather's Pavilion, The Esplanade and along the seafront.
Getting There
Getting to Balmoral is pretty easy. If you're coming by bus, there's are a few options.
Catch the 248 bus from the city and it will drop you right at the beach.
Get a ferry from Circular Quay to Taronga Zoo and then catch the 238 bus.
Get a ferry from the City to Mosman South Wharf, then catch a 233 bus.
Parking
If you're coming by car, there is paid parking right on the Esplanade at the southern end of the beach. It's around $6 for the first 2 hours and $6 per hour after. Street parking is also available at $8 per hour. One last option is find free street parking outside of the area and then catch the Mosman Rider, a free bus, which will take you right into Balmoral.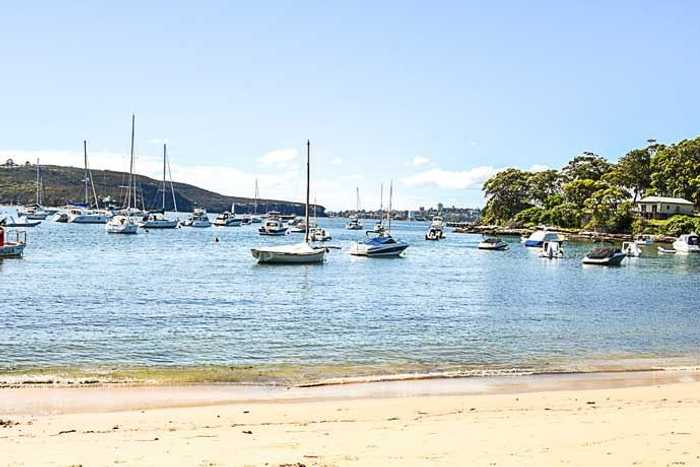 "If you're looking for serenity Balmoral Beach is perfect thanks to its relaxing vibe. It's not as loud and lively as Bondi beach, it's more like a small coastal town. It's calmer, quieter and peaceful, just like the water."